News: Foxconn has produced iPhone 13 in Brazil; OPPO Snapdragon 7 Gen1 new machine has entered the Internet; Peking University has made a major breakthrough in new crown research
Users accidentally discovered that Foxconn has started production of Apple iPhone 13 in Brazil


On April 28, although the vast majority of Apple products are assembled in China, Apple contract manufacturer Foxconn also assembles Apple iPhones in some other countries. Now, Foxconn has started producing the iPhone 13 in Brazil, but it seems that the iPhone 13 mini will not be produced locally.

9to5Mac reader João Menicucci recently bought an iPhone 13 in Brazil. To his surprise, the box said the product was "assembled in Brazil." The model number MLP3BR/A confirms that the device was indeed assembled in the country, as the device imported from China sold in Brazil has the identifier "BZ/A".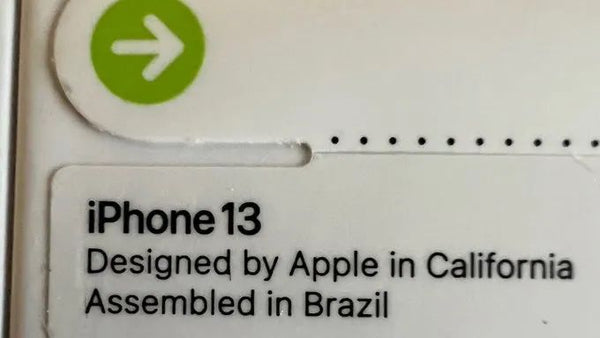 However, for some unknown reason, only the 6.1-inch iPhone 13 appears to be assembled at Foxconn Brazil in Jundiai, Sao Paulo.

MacMagazine found that Apple updated documents for the iPhone 13 at ANATEL (Brazilian telecommunications regulator) on January 24, 2022, to include Foxconn Brazil as the production base for the product. The documents also confirm that neither the iPhone 13 mini nor 13 Pro models will be assembled in Brazil.

Apple has never assembled any Pro models in Brazil, probably because they are much more expensive and only a few people buy them in emerging countries, but more affordable models like the iPhone SE and iPhone 11 are already in Brazil assembled.

Brazil slaps hefty taxes on imported products, including almost the entire line of Apple devices. For this reason, there are companies investing in local assembly operations. According to a recent report, Apple is also expected to start production of the iPhone 13 in India this month.
Trumpet Snapdragon 8 is here! OPPO Snapdragon 7 Gen1 new machine enters the network


Today, a digital blogger revealed that the new OPPO Reno 8 has passed the national quality certification and has officially entered the Internet. The model is PGAM10.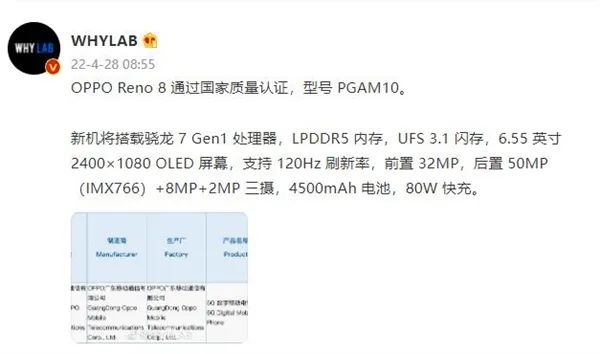 This new phone will be equipped with Snapdragon 7 Gen1 processor. The new generation of Snapdragon 7 series platform adopts 4nm process, 4 large cores and 4 small cores design, integrated Adreno 662 GPU, and can be called "small one Snapdragon 8" .

Reno 8 uses a 6.55-inch 120Hz high-brush OLED punch-hole screen with a resolution of 2400×1080, which supports fingerprint unlocking under the screen.

The rear camera is a combination of 50-megapixel main camera (IMX766) + 8-megapixel ultra-wide-angle lens + 2-megapixel macro lens. It is believed that the Sony IMX766 main camera will have a good imaging performance under the adjustment of OPPO.

The battery capacity of the new phone is 4500mAh. Due to positioning reasons, Reno 8 does not directly charge the top 150W super fast charge, but uses 80W wired charging. Under normal use, charging once a day should not be a problem.

According to previous news, OPPO Reno 8 will be released in May. This opportunity will not bring us other surprises, and we can only announce it after the press conference.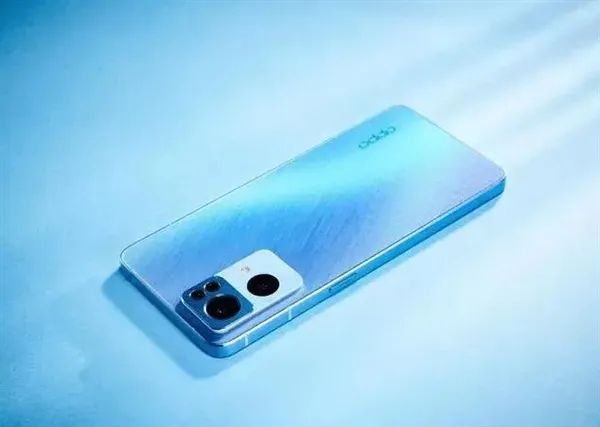 Musk says he wants to buy Coca-Cola


On April 28, Musk said on social platforms, "Next I'm buying Coca-Cola to put the cocaine back in". It's unclear if Musk is buying a bottle of Coca-Cola or the entire Coca-Cola Company.
Under the post, some netizens advised Musk to smoke less.

It is understood that Coca-Cola was invented in 1885 by John Pemberton, a pharmacist in Atlanta, Georgia, who made the original recipe in his backyard. The original formula contains cocaine in the form of coca leaf extract. When Coca-Cola was invented, cocaine was legal and a common ingredient in drugs. It is considered safe to use in small amounts. Cocaine was finally eliminated from Coca-Cola in 1929.
A major breakthrough in Peking University! Based on this, new coronavirus and variant vaccines will be developed


According to the official WeChat news of Peking University, a few days ago, Wei Wensheng's research group from the School of Life Sciences of Peking University published a research paper entitled "Circular RNA Vaccines against SARS-CoV-2 and Emerging Variants" online in the journal Cell.

Wei Wensheng's team first established a technical platform for the efficient preparation of high-purity circular RNA in vitro, and designed a circular RNA vaccine encoding the new coronavirus spike protein (Spike) receptor domain (RBD) for the new coronavirus and its variants.
It is reported that the circular RNA vaccine (circRNARBD-Delta) against the new coronavirus delta variant prepared in this study has broad-spectrum protection against a variety of new coronavirus variants.